We Are No 1 A-GoGo
Renamed from Champion 2. Thai run gogo that suffers from overly long dancing stints for the girls.
Dec 14 Key
Takeaway:
800

All in:
1000
to 7pm
55
100
75
110+
from 7pm
55-75
100
75
Make sure you get your change, the bar seems to assume that small change is a tip without asking first.
News from Ishi, July 2015: Late opening
The notice proclaiming 8pm opening was spotted on a weekday and the bar may open earlier at the weekend.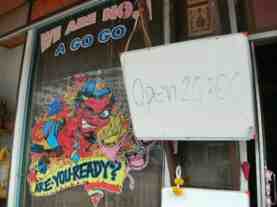 Review from Dave, December 2014: Music was great
I popped into the no I Gogo in Jomtien Monday evening.

There were 6 overweight and below average girls in Bikini's. The 2 prettiest girls were Ladyboy waitresses,

The music was great though and beer very cheap at 55 baht for draft

Bottled beer 100.
Review from Dick Farang, October 2014: Beware
I will never understand the rationale behind creating confusion by hiring girls and transvestites at the same bar (such as their neighbours KiK and USABAR also do) or gogo (such as Miami A-GoGo on Soi Post Office and We Are No 1 A-GoGo in Jomtien).
Review from Dick Farang, May 2014: Changes
We Are No 1 A-GoGo in Jomtien has indeed reopened.

The interior has remained unchanged and the music was still 1970s.

There were about 10 bikini dancers, 4 of them on stage.

No nudity.

Most dancers were older or chubby, one ladyboy.

Two of the waitresses were ladyboys too.

Draught beer 55 baht (still at 11 p.m.), bottled Heineken 120 baht.
News from Dick Farang, April 2014: Dark
The bar was dark on 20th April 2014. The reason is not currently apparent, hopefully just a temporary blip. And indeed it turned out to be a temporary blip.
Review March 2013: Still No 1 in Jomtien
It was my first visit to the bar in ages. It was early evening and everything was pretty much as it has always been.

There were 5 girls dancing on stage. Perhaps a better line up than in previous years, with a couple of the girls being attractive and another dancing topless. Only 2 or 3 were make weights.

But as always the really problem with the bar is that there are hardly any girls left over to chat with the customers. On this visit there were 3 girls on hostess duty. They were sitting with customers, but by the time they have visited the loo and gone to the bar to get their lady drink, it was pretty much time for them to return to the stage for another long dance stint.

This gives the bar a very sad atmosphere as most customers are left sitting alone. Some out of choice, and some because of the lack of hostessing girls.

But it is a totally inoffensive bar with friendly girls, cheap drinks and rock music videos.

And definitely still the number one GoGo in Jomtien.
Review from Pattaya Polecat May 2011: A Good Word
I must put a good word in for We Are No.1 in Jomtien.

Yesterday afternoon the beer was cool and sweet after a long dusty day around town, there were at least 3 attractive dancers and 3 cute service staff, all of whom were funny and friendly and eager to get close, and the rock videos on the big screen after 5.30pm are to die for.

I've always felt very relaxed in this bar, and, though it has its ups and downs, will no doubt continue to support it. And 1,000 baht flat fee for on-site service can't be bad (the girl gets 500 baht).
Review March 2011: Better than Usual
There are very few bars in Jomtien that have aircon so I tend to stop off for a quick beer a little more often than the bar deserves.

But just for once things were looking up on my last visit.

There was actually a decently attractive girl who danced topless and knew how to look after customers. Quite a refreshing change.

But unfortunately this upturn may be only a glitch. She had just turned up just that day and was auditioning. I have no idea if she stayed for longer that one day...but I doubt it
Review August 2010: No 1 for Naff
If there was a prize for the most naff GoGo in the Jomtien area then We Are No 1 could make a valid claim.

It's certainly not the worst GoGo in Pattaya, that award would be reserved for those that were rip off joints or were hasslesome or dishonest.

We Are No 1 has no such negative attributes, and generally everything is fair, friendly and above board.

But it is the way it operates that is so naff. The bar features a stage full of below average girls and hardly any left over for customer care duties. There doesn't seem anything to entertain, either customers into watching pretty girls dance, or else those that like a bit of interaction.

Presumably the handful of customers simply aren't aware that there are 50 better GoGos over the hill in Pattaya, or else they go for the pretty good selection of rock videos shown on a couple of very large screens.