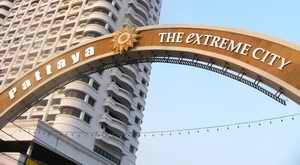 Situated 150km southeast of Bangkok, Pattaya is Thailand's busiest beach resort, attracting well upwards of a million visitors each year. Most of these are package tourists from Europe, Japan, Russia and the Middle East.

Pattaya has now grown into a large coastal city. Its three biggest tourist attractions are watersports, golf and, inevitably, sex. It's a full-on place, a sensory overload. I spent 10 days in Pattaya last December and was routinely amazed at the scale of the decadence. Truly the place was a Disneyland for adults.

It's extremely difficult not to pick up a woman in Pattaya. The whore actually heckle you as you walk past. Regardless of race, face or age, the girls throw themselves at farangs (foreigners). Many stick. Walking along the lengthy promenade, it's not uncommon to see elderly men walking arm-in-arm with beautiful teenage girls.

With everyone swimming in such shallow romantic waters, jealousy is extremely common. Usually, though, the jealousy is all the Thai women's. Midway through my stay there, I needed to travel to the Cambodian border to renew my visa. A bus picked me up at my hotel at 6am and then proceeded to pick up another seven passengers.

All of my fellow farang travellers were permanent residents, aged between mid-40s and mid-70s. They all had beautiful young Thai girlfriends waving them off. Throughout the journey their mobiles rang incessantly as their women checked up on them. The girls were obviously all terrified that their meal ticket had just left town (in fact, it became the running misogynist joke of that trip). When we returned, they were all there waiting, sulky and needy.

Most foreign residents are converted holidaymakers. With clear skies, budget accommodation and cheap booze, food and sex available at every street corner, it's no surprise that many westerners do the maths and decide to relocate. There's a large farang population - a significant proportion of whom are middle-aged or retired European divorcees, widowers and criminals.

Official figures aren't available but, from my own time there, I would estimate that there are certainly several hundred permanent Irish residents. Some of these are legitimate businessmen and entrepreneurs. Others are on the run. Sometimes just from a drab life back home. But there are tens of thousands of Irish sex tourists, holidaymakers and golf enthusiasts visiting every year.

I met an ex-soldier who'd come there on holiday with his soon-to-be-ex-wife. They'd had a row and he'd gone off on his own one night. He eventually came back a month later, and then only to divorce her, sell the house and assets, and return to Thailand.

He spent the first six months in Pattaya enjoying nightly four-in-a-bed romps with bar girls and ladyboys. Eventually his liver almost packed it in, so he began taking it easy - three-in-the-bed romps.

When I politely put it to him that he appeared to have something of a death wish, he didn't disagree. We're here for a good time - not for a long time, he laughed.

He wasn't alone in this attitude. Some people are just partying until the money's gone. The suicide rate among farangs is high. When their cash -flow dries up, many of these guys suddenly realise that their teenaged Thai partner was only after one thing. And it wasn't their Viagra.

Often these men have burnt all bridges with family and friends back home. Besides, the thought of returning to some grey existence in Europe after an extended period of life in a hedonistic paradise is too much. From king to serf in just one flight. Many opt for a far briefer flight from their high-rise balcony instead.

Of course, not all Pattaya stories end in tragedy; many expats love living there. But if you've an appetite for destruction, all the ingredients are readily available.