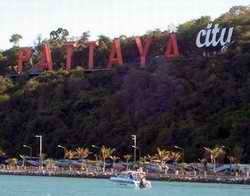 Pattaya ain't St Tropez. Take a walk down Beach Road, Pattaya's main promenade. Its renovation is comically never-ending and so unsightly that you must remind yourself it was Phuket, not Pattaya, that was hit by the Dec. 26 tsunami. Every 50 meters or so, bewildered Thai laborers peer into newly excavated holes like bad performance artists, while plants wilt in unfinished flower beds. (The city is plagued by water shortages.) The long, gracefully sweeping beach—Pattaya's raison d'être—is fringed with shabby parasols and lapped by trash-peppered waves.

Nobody actually comes from Pattaya. Until a decade ago, it was rare to meet a Thai who was born there. It is an invented place—a Vegas without the casinos, a Dubai without the oil.

Nobody comes from Pattaya but everyone seems to go there. At weekends, the foreign crowds are swelled by day-trippers from Bangkok and elsewhere. Among them are Thais from the landlocked northeast who have never seen the sea before, and who bathe in it fully clothed, in the demure Southeast Asian style, and take sneaky photographs of Eurotrash in microscopic swimsuits. There used to be a Thai saying: "If you want to see a naked foreigner, go to Pattaya."

And naked Thais. By night, the city is ablaze with pink-lit bars overflowing with Thai women beckoning to potbellied Westerners in Camel Active wear. Pattaya also has Asia's largest gay scene, with its own gay beach and attendant sex workers—a giant Boys-R-Us. It is the capital of cross-dressing, too, with at least three ladyboy song-and-dance shows. The oldest one, called Tiffany's, has an adjoining shooting range, as if watching a transvestite cabaret might provoke a crisis of manhood that only firearms can soothe.

But Pattaya is more than just a sexual playground or a monument to the perils of overdevelopment. The city was discovered and popularized by American soldiers on R. and R. (rest and recreation) from the Vietnam War in the 1960s and '70s. It is arguably the birthplace of mass tourism in modern Asia, and still its undisputed capital. It is also a crucible of future travel trends, attracting package tourists from increasingly prosperous countries such as Russia, India and especially China. They arrive in ever greater numbers, often on first holidays abroad, unaware that they are making history.

Pattaya was built on sex and war. It was just a remote fishing village on Thailand's eastern seaboard when, in the early 1960s, U.S. soldiers on R. and R. discovered its palm-shaded beach and sparkling waters. Its fate was sealed by the American military buildup at the nearby Thai air base of U-Tapao, which was modified to handle the monstrous B-52 bombers that pounded Vietnam. "Living has always been easy in Thailand," observed a U.S. Air Force guide, which read much like a modern tourist brochure. "The Thai people are friendly hosts and share our desire for peace and freedom." As for other American desires—namely, for sex and booze—the Thais proved equally accommodating. The Marine Bar, opened in a converted fishing shed at the bay's southern end, became the nucleus of a red-light district whose rapid growth mirrored the U.S. buildup in Vietnam. In Pattaya, a room cost 50¢ and a female companion not much more, and R. and R. also became known as I. and I.—intercourse and intoxication.

With the end of the Vietnam War in 1975, the U.S. military presence wound down and Pattaya briefly stagnated. It soon found itself with rivals. The war had boosted mass tourism not only by supplying an influx of U.S. soldiers, but also by creating a generation of disaffected Western youth who blazed a hippie trail across Asia.
In 1978 Pattaya was officially declared a city and, like the rest of Thailand, entered a period of breakneck development that only the Asian financial crash of 1997 could halt. Wealthier Thais, who traditionally bought beach houses in the royal resort town of Hua Hin, now came to Pattaya instead. The city boomed, but crime boomed with it. Violent turf wars erupted between local Thai gangsters, while the 1991 collapse of the Soviet Union—and the advent of direct flights from Moscow to U-Tapao—saw an invasion of cash-rich Russian mobsters. There were so many victims of murder and misadventure that in 1997 the Pattaya Mail even published a story with the headline POLICE ASKED NOT TO LET DEAD BODIES WASH UP ON SHORE. A subsequent police crackdown on prostitution, drugs and other vices generated only further lurid stories ("Police raided two Pattaya bars late on Monday and rescued several ducklings used to perform 'hatching' sex shows"). Dozens of foreign sex tourists died of heart failure from an overdose of a powerful tranquilizer that prostitutes smeared on their nipples to drug and rob their clients. NAKED BY NOON, DEAD BY DAWN, screamed a headline in the men's magazine Maxim, which named Pattaya "the world's riskiest beach resort."

Pattaya has not only kept its core clients—thousands of American soldiers return every year for a Thai-U.S. military exercise called Cobra Gold—but has also attracted new ones. Some 15 million Chinese traveled overseas in 2003, almost 50% more than the previous year, with Southeast Asian destinations such as Pattaya among the major beneficiaries. Europe is also bracing itself for a deluge: last year an agreement was reached granting mainland Chinese tour groups entry to 29 European countries. Not surprisingly, Lonely Planet is now planning its first Chinese-language guidebooks.

Chang Meiying, a Guangzhou bookseller on holiday with her two sisters and elderly parents, might stock them one day. She and her family sit in the Nong Nooch Tropical Garden near Pattaya, waiting for something called the "Thai Cultural Show" to start. Chang's six-day trip to Thailand cost 5,000 yuan (about $625), which Chang feels is poor value. Thai food is too sweet, she notes sourly, and this garden isn't that special either. We have places just like it in China. Zhang Limei, a secretary from Guangzhou who is traveling with workmates, is slightly happier, largely because her vacation cost less: "2,000 yuan is very cheap," she says. This is her first trip abroad. Her verdict so far? Thailand is not as nice as China, and I'm still waiting to see something really exciting.

Phew. Is it always this hard to please Chinese visitors? Maybe. While Chinese do not yet travel overseas in great numbers, they are experienced tourists in their own vast and varied land, and have understandably high expectations of other people's. Still, you suspect that no foreign trip would fully satisfy Zhang. Her map of the world seemed to be divided into two parts: "China" and "Not as nice as China." What she might have wanted was a holiday just bad enough to confirm how good home was. Perhaps that's what we all want.

Assuming their economy doesn't falter, Chinese tourists will slowly transform holiday destinations worldwide, starting with Pattaya. The Queen Victoria Inn and the Big Ben Pub will one day be eclipsed by the People's Liberation Pub and the Long March Bar & Grill. But don't forget the Russians, warns Mikhail Ilyin, an Estonian who runs Ilves Tour, the Pattaya agency that arranged Zhanna Balagurova's vacation. Many Pattaya hotels have Russian television channels and Cyrillic menus, notes Ilyin, who becomes suddenly animated when discussing travel statistics. Some 6.5 million Russians take overseas holidays every year, mainly in Egypt and Turkey; about 115,000 come to Thailand, most of them to Pattaya. Ilyin believes this market could double in two years' time. An average Russian tourist spends about $650 in Thailand. If you doubled their numbers, that's worth over $30 million. This sum, he argues, more than compensates for their occasionally loutish reputation.

And they make it more respectable: Russians usually come as couples or families, not as lone male sex tourists. The resort supposedly wants to shift further in this direction, but it's a tough task when even more sex-club owners are arriving to avoid stricter police enforcement of closing hours in Bangkok. You can open later in Pattaya and you can show more flesh, says a British go-go bar manager. He adds that a similar crackdown on bars and clubs in Pattaya is unlikely because many local officials get a cut of the profits. Even the website of the Tourism Authority of Thailand promotes the city's "glaring erotic shows" and notes that "any fantasy can be fulfilled, especially after sunset."

Can Pattaya have its cake and eat it? Can it really be a child-friendly red-light area? The Thai, British and Russian families at my four-star hotel shared their breakfast buffet with fiftysomething Western men and their teenage Thai companions. Nobody seemed to mind.

Which kind of town will Pattaya become? It doesn't actually matter. Pattaya has no historical buildings to preserve, no culture to erode. An invented place is free to reinvent itself, although Pattaya will probably always be a tabloid town with broadsheet pretensions. There is talk of building a Monaco-style racing-car circuit through the city, or of opening Thailand's first legal casino. While developers in Spain tear down multistoried beachfront hotels because tourists don't want to stay in them anymore, Pattaya is still building them high and fast, along with mammoth condos to compete with favored European retirement destinations such as Spain and Portugal.
In Alex Garland's iconic novel The Beach, some intrepid backpackers discover a Thai island untouched by mass tourism and establish a utopian community, which later collapses amid jealousy, greed and violence. The moral of the story is not that paradise doesn't exist. No, the moral is: paradise does exist, we just don't deserve to live there. Until we do, there will always be Pattaya.